360 video offers filmmakers and video editors alike a boundless and immersive way to tell stories. But, there's a learning curve. If you've ever worked with or watched a 360 video, you know that there's a big difference between editing standard video vs 360. The good news: Once you know where to start, 360 editing is surprisingly simple. This article breaks down the 360 editing process into five digestible steps, from beginning to upload. Let's get started.
Phase 1: Stitching
It's typical to shoot 360 with a number of different frames or cameras. If you shot your 360 footage this way, you'll need to stitch all that video together
before
you start editing. We recommend stitching with
Autopano Video from Kolor
, a subsidiary of the GoPro family. In many ways, Autopano is your 360 post-production one-stop shop. It lets you quickly stitch footage together from multiple cameras. Autopano also allows you to stabilize your video, and correct the 360 rotation inside Premiere Pro (via Autopano's integration).
Phase 2: Formatting 360 video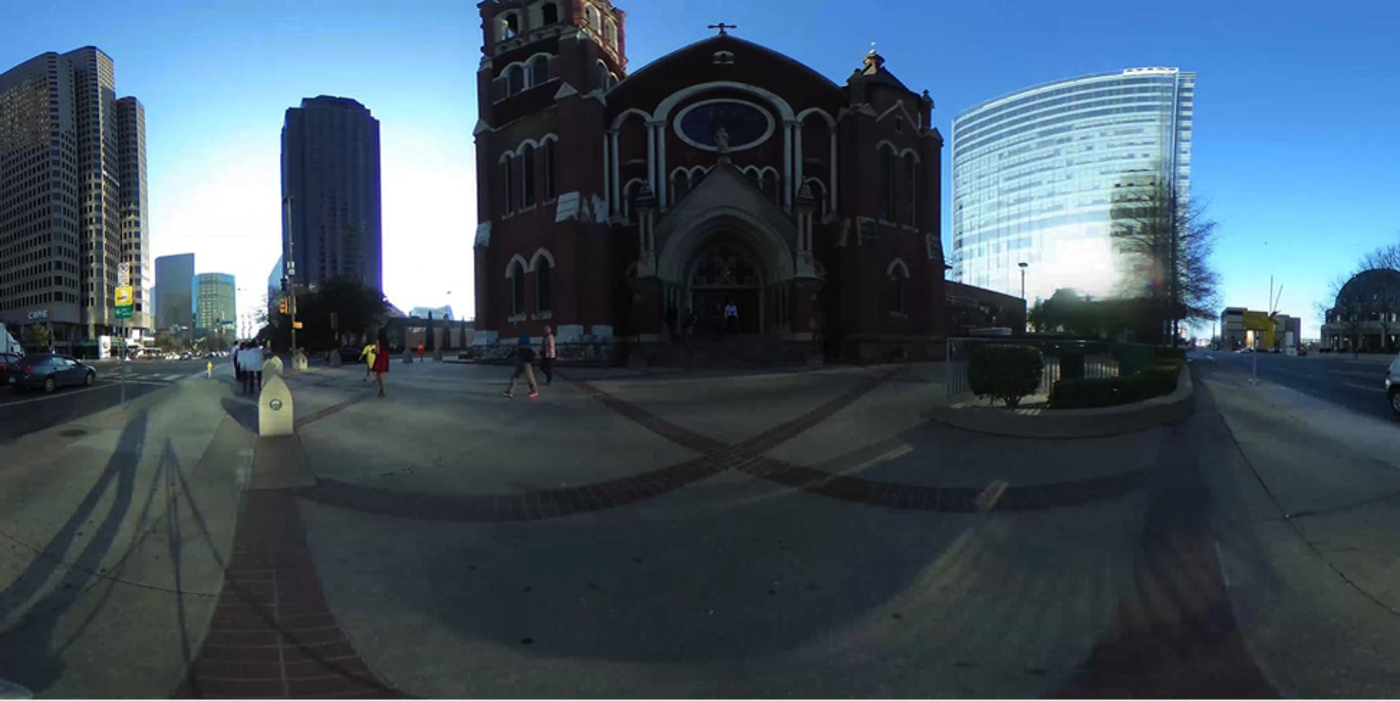 There are a few different types of 360 video formats, but equirectangular is the most popular, universal, and user-friendly format out there. Equirectangular essentially manipulates 360 video into a rectangular format — reminiscent of HD or 4K footage. This file format even allows your aspect ratio to vary frame to frame, giving you a nice amount of flexibility when shooting. You can also watch unrendered equirectangular footage on any standard video player. But, if you want the whole 360 or headset experience, you need to watch it in a player or app that supports 360 — like Vimeo.
Phase 3: Editing
As you'll see in video tutorial above, editing 360 video is actually pretty similar to editing standard video. All of the same concepts like syncing, cutting, dissolves, and levels still apply to 360 video, you just have to get the hang of it. If you're looking for editing software to get the job done, it's Adobe Premiere Pro all the way. Adobe's
integration with Vimeo
, After Effects, and the rest of the Creative Cloud all make it a fantastic tool for 360 video editors. It's just important to know that if you want to add in visual elements (like graphics) you'll want to use a third-party app (like After Effects paired with Skybox Studio) to make sure your graphics aren't distorted in playback.
Phase 4: Previewing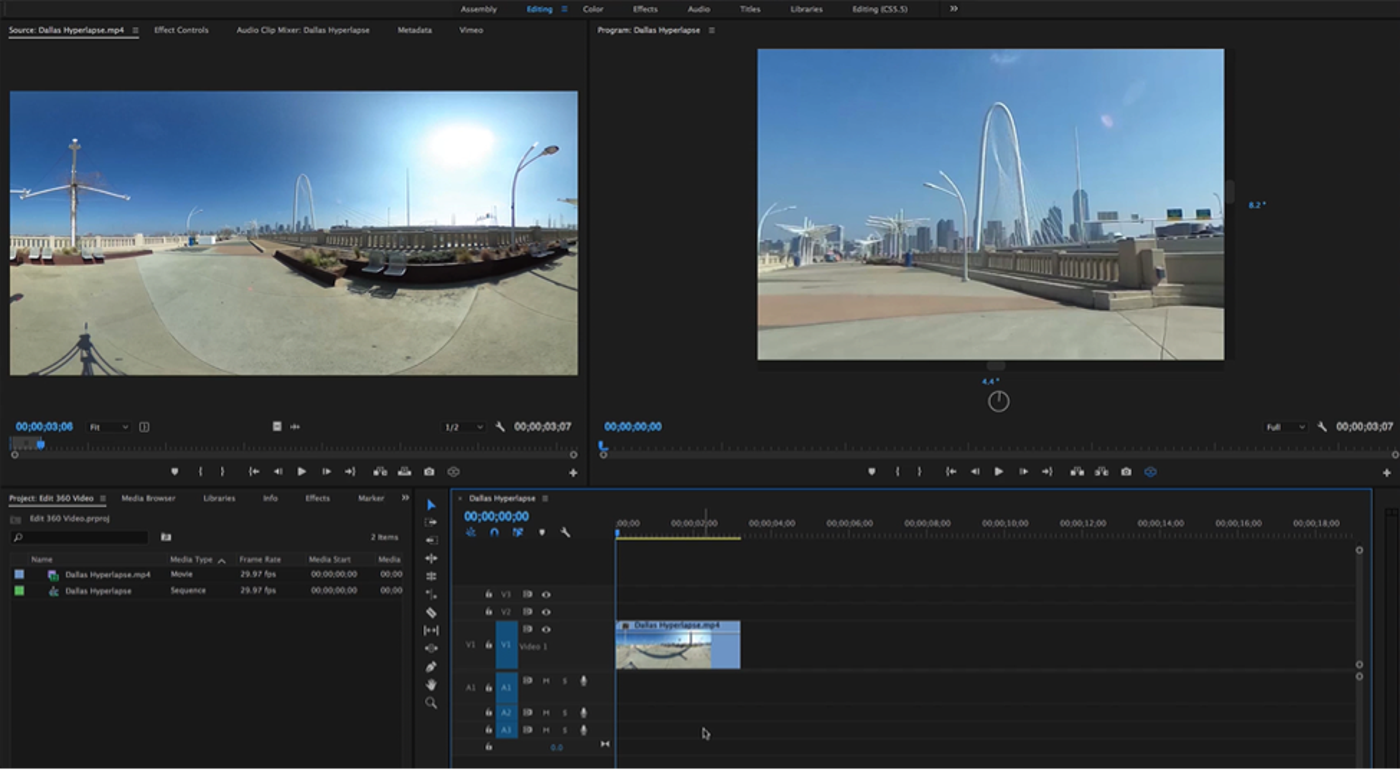 Previewing 360 video from Priemere Pro is also incredibly easy. Simply drop your equirectangular video into your timeline, select the
Toggle VR Video Display
button found in the menu in both the
Preview
or
Program
monitor. Once selected, you'll be able to tilt the camera 360 degrees with either your mouse or side dials on your Preview or Program monitor. The example above uses a monoscopic 360 video format, but Vimeo supports stereoscopic 360 video formats.
To use a stereoscopic source format, you can stack your video files with the left eye footage on top of the right.
Phase 5: Exporting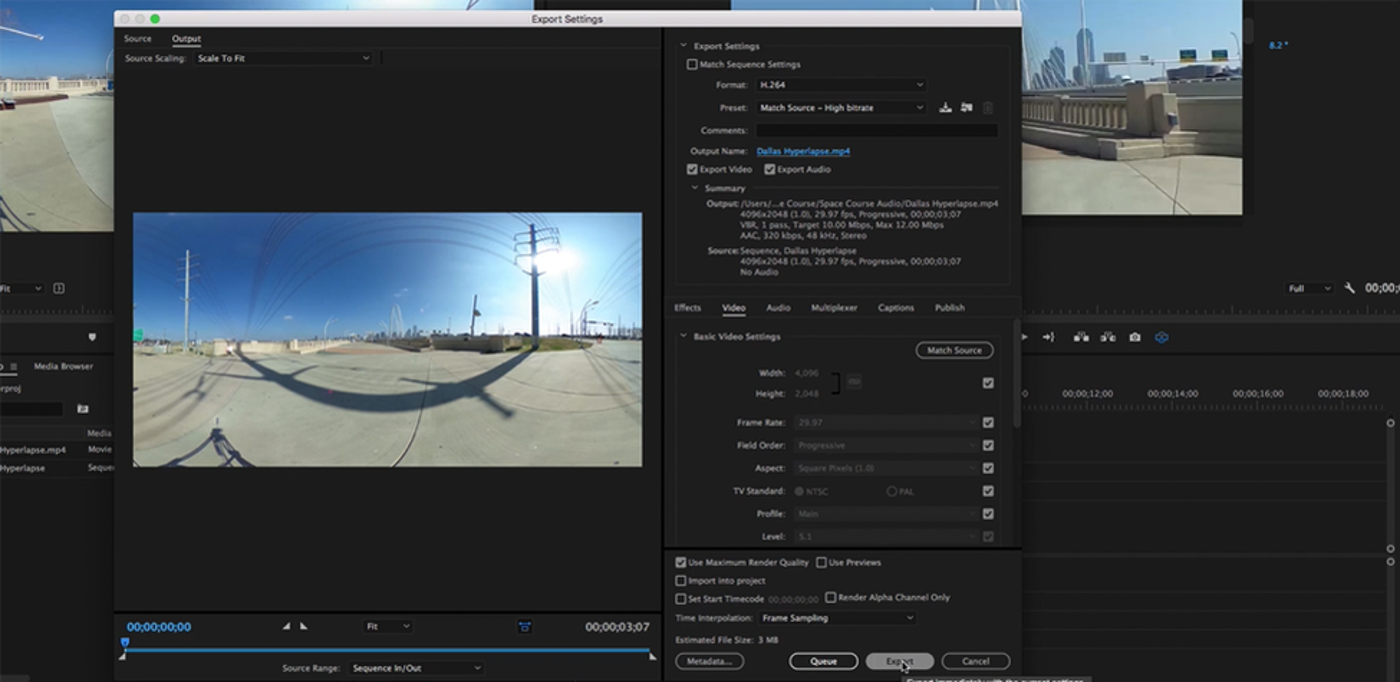 Exporting your 360 video is a little different than what you'd do with standard video. Namely, you need to add the appropriate metadata. To do this, simply go to
File > Export > Media
or hit
command+M
on your keyboard. This will pull up the export panel. Adjust your video settings. We recommend using a less compressed format (like ProRes) since 360 accentuates compression artifacts. Use 4K if possible (the higher the better for video quality — Vimeo supports HDR uploads). With 360, you can only see a portion of the raw video. So even if the raw file is 4K, the portion within your view might be closer to 1080. And, once you've got what you want, you're all set to
upload
.
Disclaimer: The images for this lesson were shot on a Theta S, which comes with proprietary software that stitches 360 clips together in real-time.
Feature image from "Tales from the Edge" by Jeb Corliss.